Hello and thanks for dropping by.
First things first so let's start with my name which is Linn. That's me and in the background you see the kitchen of the little apartment we stayed in on a recent trip to Paris. I grew up in California in the east bay area and I'm used to sun, warm weather, a growing season, and as many fresh fruits and vegetables as I can fit on the plate along with avocadoes, nuts, whole grains.  I am also used to estate bottled California wine and California extra virgin olive oil.
With a Master's Degree from Berkeley in French, Italian, and English literature, my language skills let me live in France for a several years. See that beautiful brass beam balance scale below, that's the scale I used doing private cooking just outside of Paris. My culinary skills improved and I got used to metric recipes and learned to buy in kilos and cook in grams. Never say a liberal arts degree serves no purpose.
Now I live in New York. Variable sun, hot and humid summers, cold sometimes nasty winters, limited growing season, but access to this city's vibrant food scene, greenmarkets, and some of the best Italian regional cooking outside of Italy.
To earn my living I had to go back to school and that's how I ended up in nutrition. Dietetics has been good to me. I worked in clinical nutrition and rehab counseling for 15 years, but at the same time I also taught myself how to run nutrition numbers, got very familiar with regulatory language, and developed my ideas for healthy eating.
The reason I went back to school in the first place was because I believe nutrition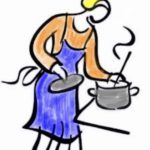 belongs in the kitchen. But what I ended up learning is that healthy is a complex and nuanced construct. So now I'm sharing my vision as a culinary nutritionist and assisting other food obsessed folks relate good tasting food to healthy eating and nutrition science.