I love to cook, love to eat, love
to run the numbers. And thanks to my dietetics training I'm well qualified to put all those nutrition numbers into a workable culinary perspective.
I assist small scale food producers, websites, cookbook writers, and chefs with recipe development and nutrient analysis.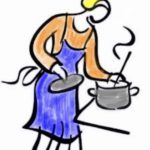 My projects include:
• 2016 Nutrition Facts Label and Ingredient List
• Nutrient analysis and diabetic exchange listing for major website. Over 1000 recipes analyzed to date
• Nutrient analysis for a cookbook
• Cycle menu analysis and compliance review for institutional food service
• Ongoing recipe re-engineering and testing from American common measure to metric measure.